¿Quién está en línea?
En total hay
21
usuarios en línea: 0 Registrados, 0 Ocultos y 21 Invitados :: 2 Motores de búsqueda
Ninguno
La mayor cantidad de usuarios en línea fue
1247
el Jue Sep 13, 2007 8:43 pm.

Raul Castro can't match Fidel's charisma, but life in Cuba little changed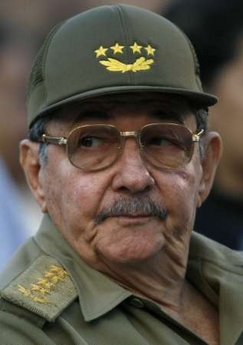 The Associated Press
Infosearch:
José Cadenas
Analyst
Bureau Chief
USA
Research Dept.
La Nueva Cuba
June 2, 2007
HAVANA: If Fidel Castro is larger than life, his brother seems almost smaller than it.
Dour, short and stiff in public, Raul Castro cannot match the charisma of the far-more-famous Fidel — but has not needed to.
Cuba has changed little since the mustachioed army general, who turns 76 on Sunday, took the reigns of a provisional government after intestinal surgery forced his older brother to step down in July.
The defense minister for decades, Raul has announced no sweeping policy initiatives, and has given few major speeches. But he also has kept the communist system running — avoiding the outright collapse many Castro-detractors predicted for decades.
"The conventional wisdom is that under Raul there will be less government by charisma and more government by procedure and protocol," said Louis Perez, a history professor at the University of North Carolina and author of several books on Cuba. "Raul appears to shy away from the microphone and cameras, to prefer to work with (and) through staff."
Whereas Fidel turned up in public constantly, Raul has remained largely unseen, pledging to share power and listen to criticism. What he lacks in stage presence, he makes up for in camaraderie with top military officials, many of whom describe Raul as both fiercely loyal and quick with a joke.
Jose Ramon Fernandez, a vice president who helped command defending forces against U.S.-backed exile invaders at the Bay of Pigs in 1961, wrote that "Raul is systematic in his work style and leadership" but also has a little-seen sense of humor.
He is "a person who knows how to be firm in what he demands of every task he tackles without ceasing to be pleasant, affectionate, human," Fernandez wrote in a glowing tribute republished in the Communist Party newspaper Granma last year.
As head of the armed forces, Raul directed Cuba's military involvement in independence wars in Angola and Ethiopia in the 1970s — while overseeing soldiers' successful peacetime efforts to help rescue the island's economy following the collapse of the Soviet Union in 1991.
Pedro, a security guard in Old Havana, said Cubans don't need to see Raul every day to know he is in charge.
"He was No. 2 for so long preparing. He was ready," said Pedro, who said giving his full name could have negative repercussions at work. He said Cubans are worried about what might happen if Fidel's health takes a turn for the worse.
"Fidel is there supporting him," Pedro said of Raul. "Someday he won't be."
If Raul is worried about what might happen, he has not shown it, long suggesting that the system — rather than one leader — will lead Cuba in the long-term.
"Only the Communist Party, an institution encompassing the vanguard of the revolution and safely guaranteeing the unity of all Cubans at all times, can be the dignified successor," he said in a speech shortly before Fidel fell ill.
Fidel Castro has not been seen in public in 10 months and his condition and exact ailment remain state secrets. He has released a series of signed essays in recent weeks and seems in no hurry to resume presidential duties.

Anonymou

Invitado





As defense minister, Raul has overseen some of Cuba's most important experiments with limited market-style reforms. Military units produced and sold food at free markets and the military ran an important tourism company, Gaviota.

Raul is viewed as likely to embrace limited free enterprise. In the past, he has expressed interest in China's model of capitalist reform with one-party political control.

Many Cubans hope Raul will eventually usher in modest economic reforms, especially the easing of restrictions on owning private businesses. But so far, there's no sign of that happening.

Instead, the new government has simply spoken more frankly about problems.

In April, Vice President and Cabinet Secretary Carlos Lage said Cuba's biggest challenge is winning over a new generation curious about "the siren song" of capitalism and the creature comforts it affords. But he provided few details on how Havana will pull it off.

Raul has lambasted the country's dilapidated public transportation system, but there have been no noticeable improvements, and a law that went into effect in April penalizes state employees who show up late for work, despite hardships in getting there.

Then there is the celebrated academic council charged with studying state-ownership and private property within the socialist system. Instead of reaching any conclusions, the commission is expected to prepare a report years from now.

Brian Latell, a former top Cuba analyst at the CIA, said the provisional government has put off its economic reforms while Fidel recuperates.

"As long as Fidel is on the scene, however impaired, however reduced politically, the successors, Raul and the others, are inhibited in how far they can go in seeming to abandon or repudiate any of the policies that he's been associated with," said Latell, author of the book "After Fidel."

Latell said the provisional government has been "raising exceptions and hitting down hard at the same time," cracking down on government critics.

Dissidents report an upsurge in detentions recently, but say that many of those arrested have been released within a few hours. Under Raul, the government has freed a number of inmates considered by international human rights groups as "prisoners of conscience," though most completed their sentences or were close to doing so.

"Raul is getting closer and closer to a crossroads. He's going to have to start making tough decisions," Latell said. "I don't think he can play indefinitely this game which is raising popular expectations while maintaining a very hard line."

Anonymou

Invitado






---
Permisos de este foro:
No puedes
responder a temas en este foro.